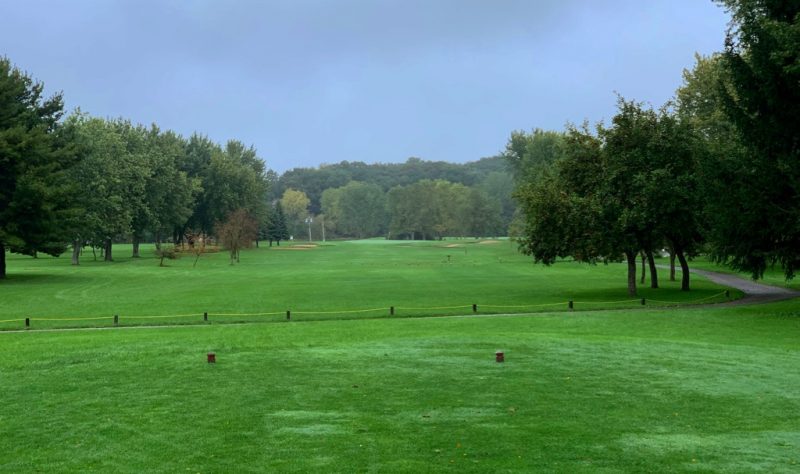 Buena Vista Golf Course plays to a par 32; my score was 44. You read that correctly – 44. Here are my excuses: I had a redeye flight into Chicago that arrived at 5:30am; by the time I tee'd it up, I had 27 hours with no sleep; it was raining; the fairway grass was long and waterlogged, thus no roll; I had rental clubs that were probably manufactured in 1980; my back hurt; my shoes were waterlogged by the end of the first hole; I was jet-lagged due to two time zone changes; and lastly, I'm an old crappy golfer.
It's rainy; it's windy; it's wet but I'm playing golf (or attempting to). How many times have I been in this situation? Sitting in a parking lot trying to decide to play or not to play. The aforementioned excuses are all true, but I didn't travel those 2,000 miles to not play.
At Hole #1, I extracted my Triumph Tru-Form Titanium-Alloy driver from my bag as the two shaky legs of the bag collapsed to the ground. I haven't swung an ancient club like this in 40 years. I proceeded to pull my first shot of the day way left into the trees. Luckily, they are sparse and I'm able to find my ball floating in a recently formed puddle of water. The fairway on this opening par 4 is wide if you have the skills to find it! Even though this hole is only 283 yards long, my drive went nowhere. I looked in my bag again to see from which rental I can choose. There is a 3 and 4 iron – I eliminated those from my own set years ago. So, I decided on a 5-wood, but which one? I have two in my set – a Triumph Tru-Form Titanium-Alloy and a G-Force Titanium 21-degree model. I finally realized from this lie I will probably top a 5-wood, so I pulled the 7-iron and knocked it back to the fairway. I'm was halfway (remember it's only 283 yards) to the hole and my shoes were already soaked through (my waterproof shoes are safely located in my garage in Oregon). I closed my eyes, pulled a club, and proceed to dump my third shot into one of the four bunkers surrounding the large green. I finally found the putting surface and two-putted for a double bogey. I traveled 2,000 miles for this?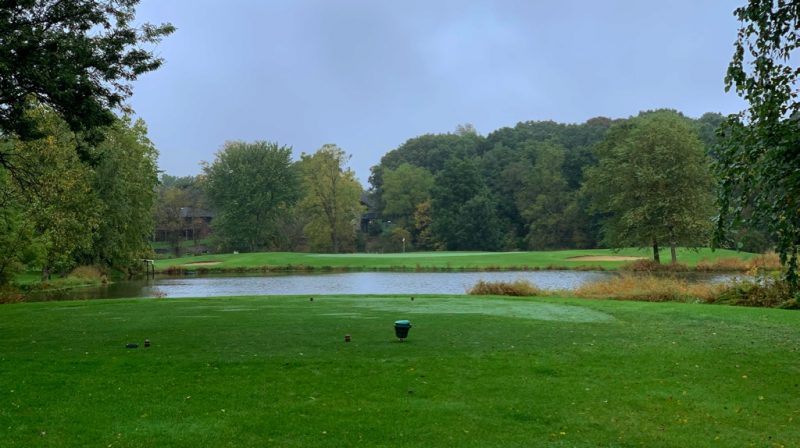 As if there wasn't already enough water on the course, the par 3 second hole has a pond to carry. I had no clue what club to hit, so of course I pick one that deposits my ball in the pond. At least with my third shot I missed the left, right, and behind bunkers that surround this large and undulating green. I have to say they like to mix it up as the first three holes are dramatically different. Hole #3 is a long (520 yards) par 5 with a dogleg to the right. There is tree-trouble and out-of-bounds to the left, so the wise shot is down the right side. However, besides hitting it far enough to clear the bend in the fairway, you need to avoid the strategically placed bunker at the turn. When you finally find the end of the fairway, there is a large, flat green awaiting your shot. If you are keeping score at home, I'm five over for three holes!
Hole #4 is a long par 3 of 193 yards. There is a large, kidney-shaped bunker to the front, right side of the green. If you try to avoid the right side, your ball may tumble down the left side of the green and settle among the trees. The par 4 fifth hole has a dogleg left, a wide fairway, and a bunker causing trouble in the middle of the fairway about 120 yards from the green. Another large green with bunkers awaits your approach shot. Hole #6 starts a succession of par 3's. There is so much sand surrounding this green, it gives the impression of being an island green.
As you exit the sixth green, you cross the road to your right, but where do you go now? After  crossing the road, I turned right and back toward the course entrance. Logical move, but incorrect as you will find yourself at Hole #1 and the parking lot. You should turn left, and behind the house is the tee box for Hole #7. A kidney-shaped bunker swallowed my shot to this slightly elevated green. These clubs must be possessed as all my shots are finding the left bunkers. With no sand wedge, I'm getting the hang of using my 9-iron from the sand.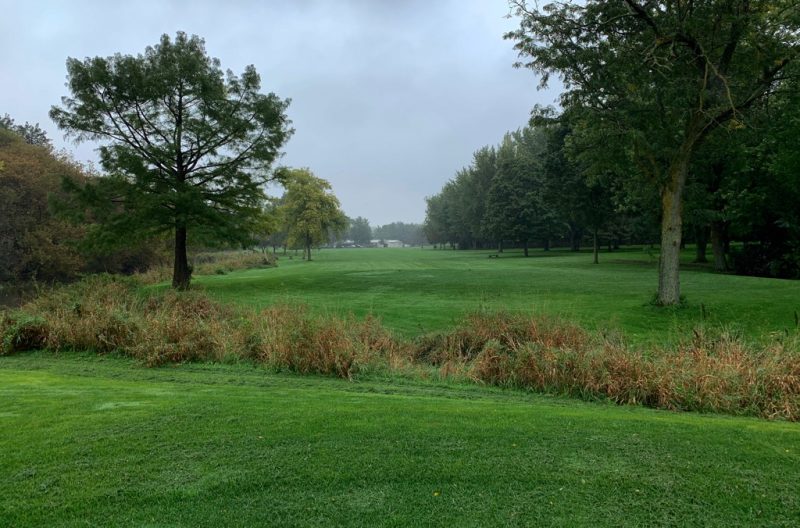 Hole #8 is the last of the three consecutive par 3's. It's 169 yards long with a small creek to carry and a large thin bunker on the left to avoid. I wanted more practice with my 9-iron, so I expertly placed my tee shot in that bunker. There are quite a few trees to maneuver around on Hole #9. If you clear the creek in front of the tee box and thread the initial trees on both sides, the fairway is wide open out there. On my final drive of the day, I finally solved the mystery of hitting this '80's driver.
Rating – Par:  The grass on the fairways was long and sloppy and the greens were slow and sloshy. But it must have been raining for 40 days and nights, so it's just the rub of the green.  There is a good combination of dogleg left and right holes. The par 3 holes had a variety of distances. The staff were outgoing and helpful and there were enough challenges today to make my two hours very interesting. One final thought – bring your own clubs.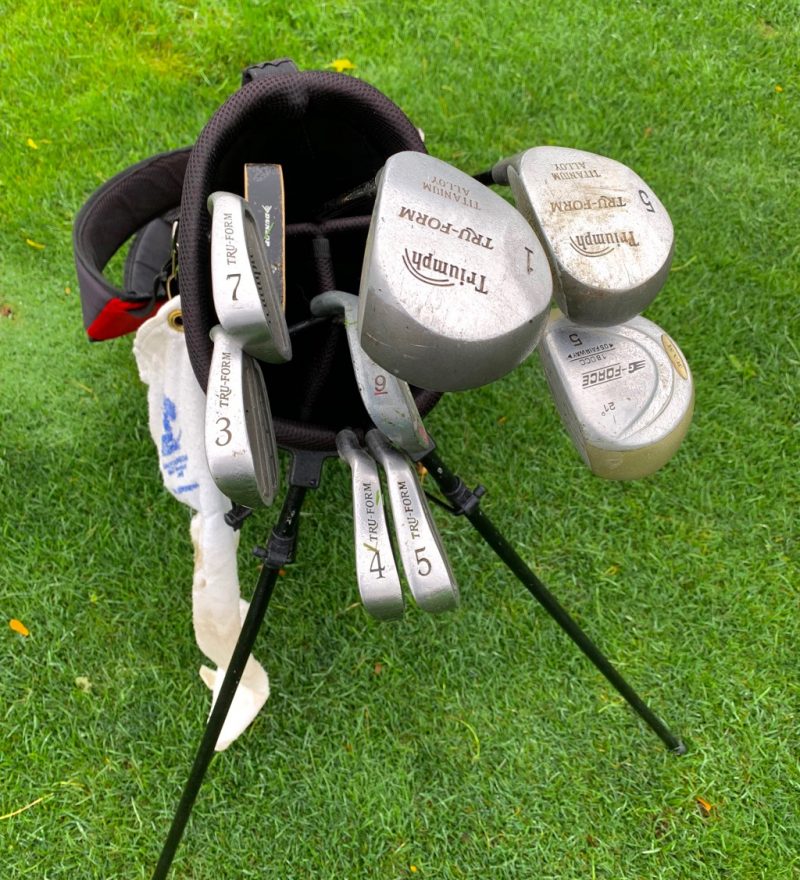 131 Buena Vista Drive, DeKalb, IL 60115;  815-758-4812;  www.golfdekalb.com