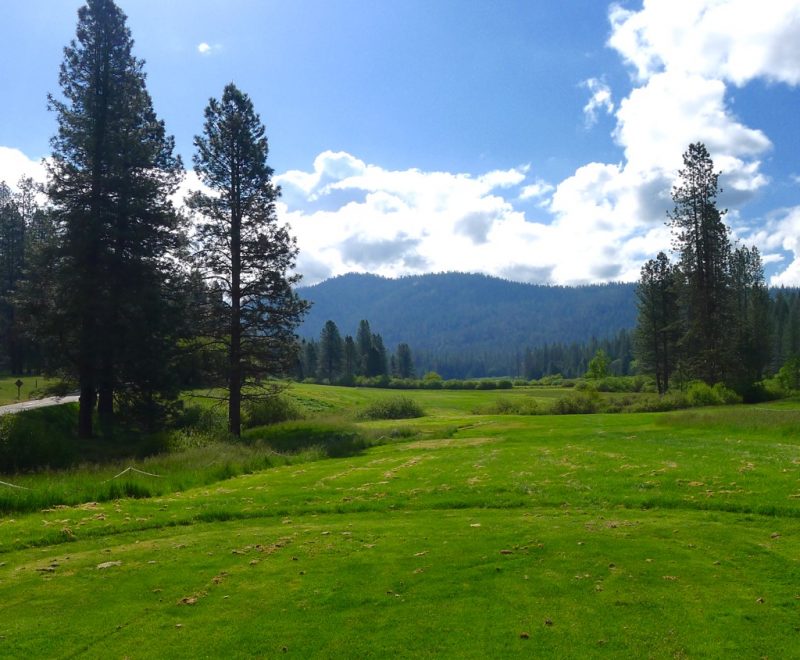 Here we go again. While searching for a course in Yosemite National Park, we found Wawona Golf Course and Big Trees Golf Course. It looked like they were the same course but we were not quite sure. The internet is great but sometimes a good, old-fashioned phone call is in order. So, we found out they are one and the same. A name change from Wawona GC to Big Trees GC happened a few years back. We thought Big Trees Golf Course was more fitting.
At Holes #1 and #2 it looked more like the Big Grass Golf Course. The fairway grass was high and the rough was impossible. Everyone lost their ball on the first shots of the day…and a couple of us actually found the "fairway". There was a reason for the course condition. They had just opened a week earlier and the grounds crew were trying to hack their way through the tall, wet, winter conditions of the course. Understandably, there were no motorized carts allowed on the course yet, so we took pull carts. We should have been carrying but taking pictures, writing notes, and carrying a bag is difficult – we took our two bogey's and two doubles and trudged on.
A herd of deer watched us from the fairway at the 233 yard par 3 second hole. Standing in the fairway they knew they were safe from any shots coming off our club faces – they were correct. As we moved down the fairway (I mean rough), they slowly moved into the woods. When we passed, they moved back to their feeding ground in the fairway. They had this playground to themselves for the last five months – sorry guys, you'll have to share now. Golf ball update – only two lost this hole between the four of us.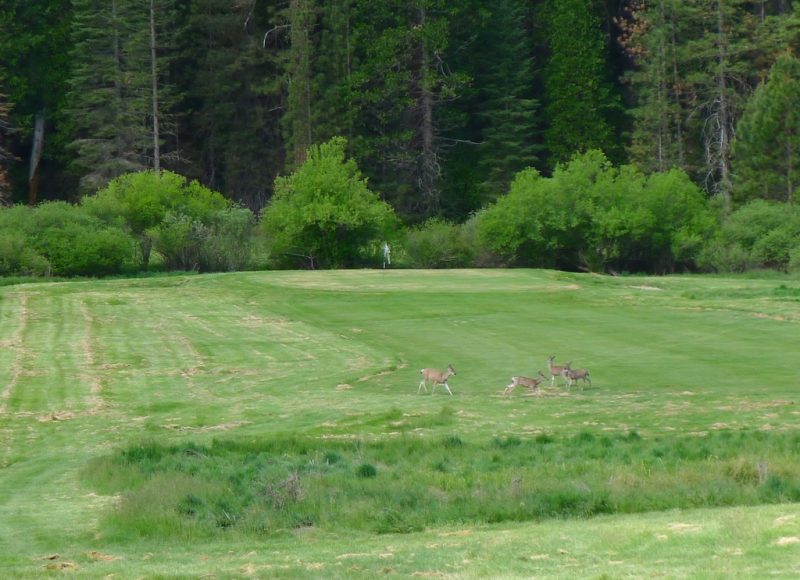 Hole #3 took more of a toll on us. We not only lost three more balls, we also lost Ed. Was it Bigfoot emerging from the woods to the left; the high rough to the left and right; or the watery marsh in the middle of this par 5 that took him from us? Probably the latter two as the hills and high wet grass were taking a lot of effort to walk the course for a few old men. The wet conditions made this 470 yard hole difficult to card a good score. According to the golf pro, even during summer the middle of this hole continues to be soggy from water runoff coming from the left. If your drive lands before or after the marshy hazard, more water needs to be cleared on your second shot. And this is one of the easiest holes on the course! I recommend waterproof golf shoes when playing this course. I submerged ankle high in the water extracting Ed's ball from the murky mess.  But alas, Ed was nowhere to be found.
Wish I could learn to hit a draw! Hole #4 is a par 4 of 393 yards that bends to the left. The first two holes played in open terrain while holes #3 through #9 wind through the trees. Hole #5 has a blind tee shot with a periscope to survey the fairway in the distance. There was no need for us to use it since we were the only golfers crazy enough to play in these early season conditions. If you successfully avoid the trees on both sides of the fairway, then all you have to accomplish on your second shot is clearing a creek and all the "junk" in front of the green. I can see why this is the #2 handicap hole.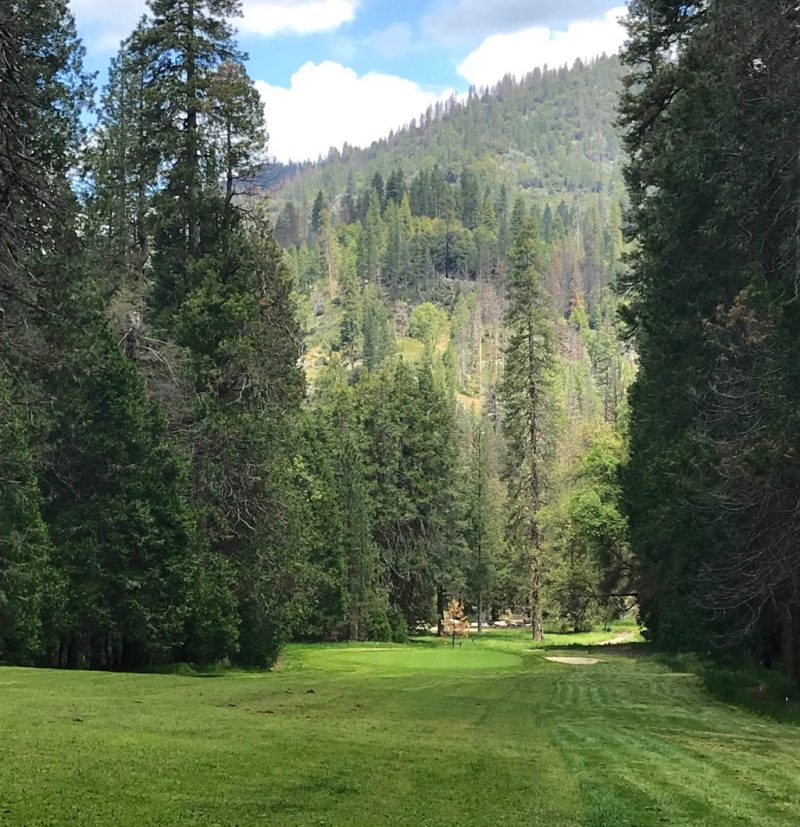 Hole #6 is a par 3 with the same creek to carry. It was at this hole we encountered the maintenance staff that was hard at work cleaning up the mowed grass that was finally starting to dry out. We trudged on to Hole #7. Still no sign of Ed. You go up, then you go down on this tight, tree-lined fairway. This was my favorite, very scenic, and number one handicap. If your drive doesn't find the fairway, you are in big trouble. Speaking of trouble, the only thing you will find at the par 3 eighth hole is a bunker front left; trees/rough to the rear; and deep rough to the right. Best to just find the putting surface here. Hole #9 is a straight par 4 with a very generous landing area (for most golfers) and a good hole to finish strong.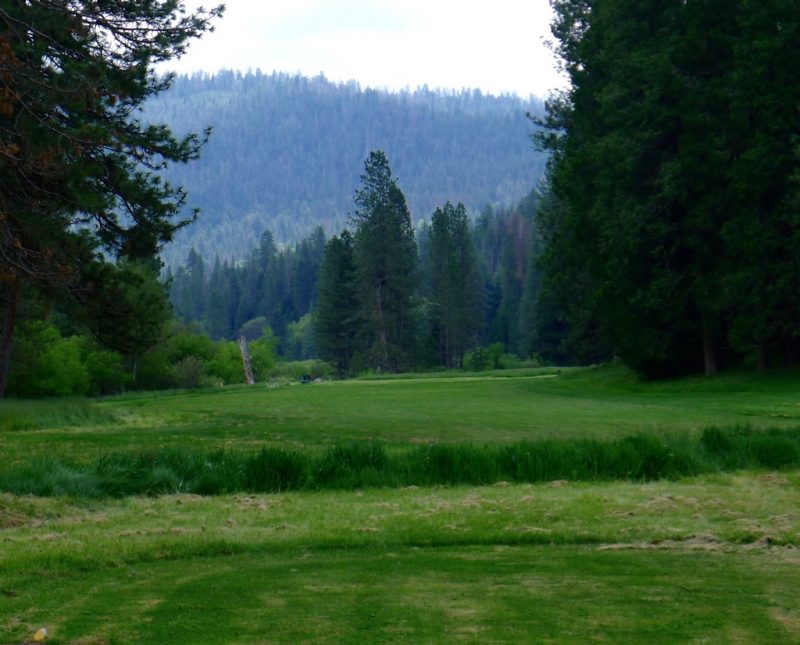 Birdie:  It was hard to accurately rate this course. Coming out of the winter season, it was in poor condition, but they were working hard to get it back in shape. I liked the routing of the course, especially hole 3 through 7. The staff was very pleasant and lunch afterward in Big Trees Lodge was excellent.  Oh, and by the way, that's where we found Ed, nursing a beer and cleaning the marshy mud from his body. My recommendation is to wait until summer to play this course and not play one week after it opens!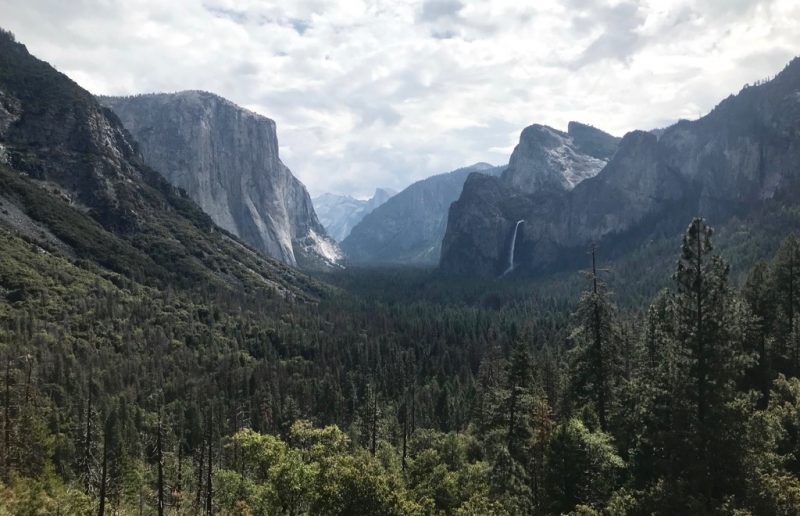 Besides golf, our Yosemite National Park experience included hiking, driving, more hiking; then eating, drinking, and smoking cigars at our mountain cabin. We decided to skip climbing Half Dome and El Capitan on this trip.
2005 Wawona St. Yosemite National Park, CA 95389;  209-375-6572;  www.travelyosemite.com