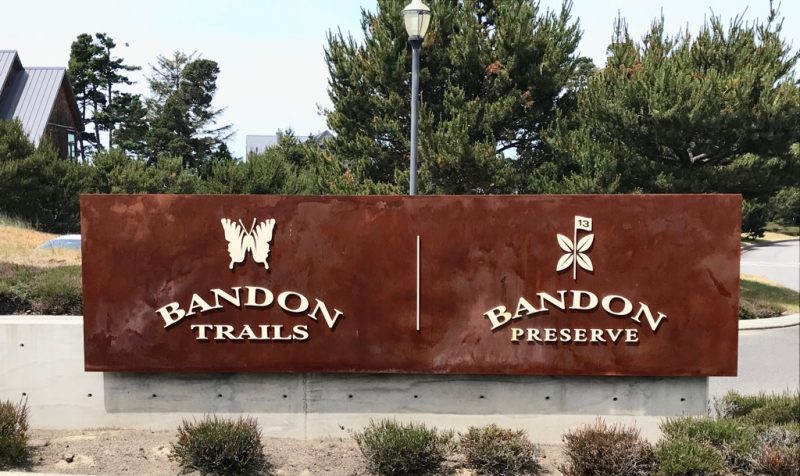 What were you thinking? How could you? Do you have a screw loose? You call yourself a golfer? You did what? Most insane thing I have ever heard! Go ahead, call me CRAZY! Following is my tale of adventure that led to these remarks.
I went to Bandon Dunes Golf Resort and only played the Bandon Preserve Course!
What a nice way to start the round at Hole #1. A sweet shot to 12 feet and a one putt for birdie with Mark, the starter, looking on. Today the flag at the 150 yard second hole was front right. So of course I tugged my tee shot long and left where all the bunkers are located. Somehow I found the putting surface again and two-putted for par.
We kept ascending at Hole #3, a shorty of 87 yards. Karen said, "you are on fire", as my shot landed two feet from the cup. Another birdie, but was her comment the Kiss of Death? The ocean starts to come into view at Hole #4. This huge green (more about the greens later) is very accepting to bad shots. The views are now starting to take precedence over my game, which has been very good to this point.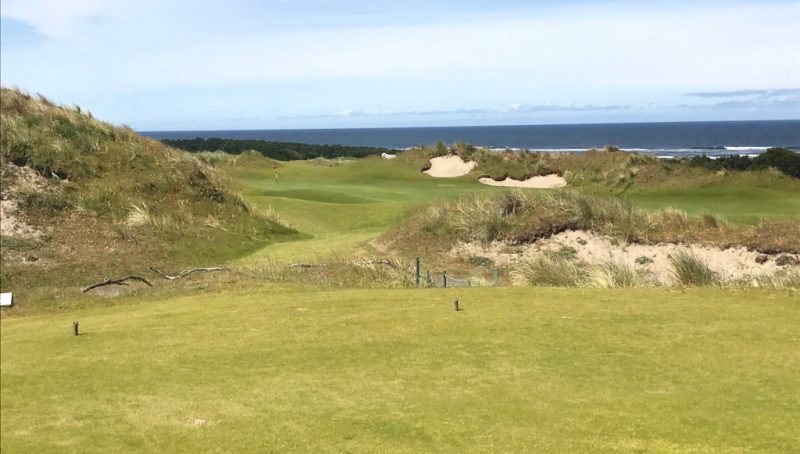 Hole #5 is a "long" 142 yard, into the wind (more about THIS later), downhill hole. Sometimes in this game you just have luck on your side. I hit six inches behind the ball; just got it over the dunes; it rolled down the hill; and stopped eight feet short of the hole. Birdie – this game is too easy! Tough hole this #6! It is into the wind, which most of the hole seem to be, so club accordingly. But the wind wasn't so bad that it made the day miserable. Just say it was challenging and fun! Left is bad – big dropoff and many evil bunkers. Right is not much better as I had to play from the scruffy hillside. I was happy to survive with my first bogey.
A 147 yard shot to the largest, most undulating green you will ever see at Hole #7. Of course by now you will have noticed that the whole course is essentially one large green. Time to muscle-up from the back tees for this 63 yard shot at Hole #8. You need your best "flop shot" to clear the dunes and land softly on the green. Trouble left; trouble right; trouble long; wind whipping the flag; but who cares, you're focused on the ocean behind the green at the 9th hole.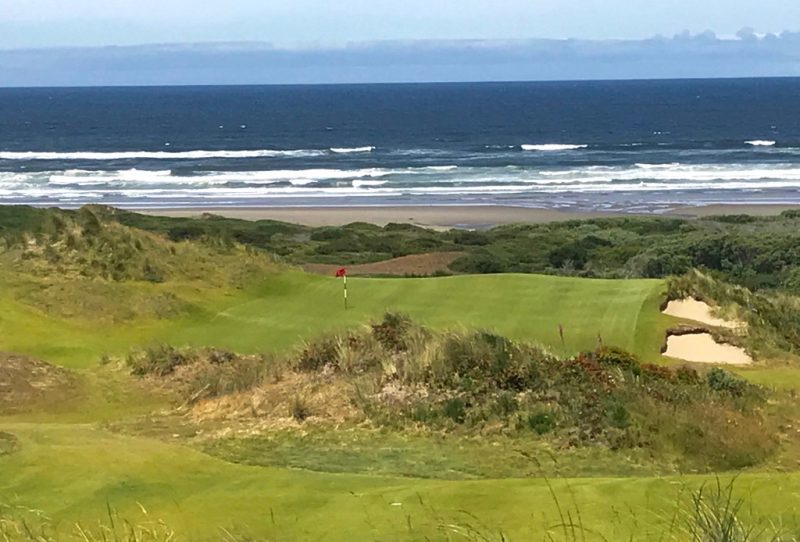 Now you are treated to four bonus holes as you start to work your way back home and leave the ocean behind you (but not the wind). At Hole #10 you'll travel over hills and dales, dunes and sand. A precise shot is needed to find and hold this green. Take a moment to make sure you are aiming at the correct green! Hole #11 – now this is a "fun" hole. By the looks of the wind-swept trees to the left, the wind has blown left to right for the last 100 years. I hit a "perfect" tee shot right at that tree and watched the wind take my ball across the green and land in the environmentally sensitive area. From there I had a rollercoaster putt from the drop area for par. Just a word of warning, if you aim too far left and your ball does not fade, kiss it goodbye.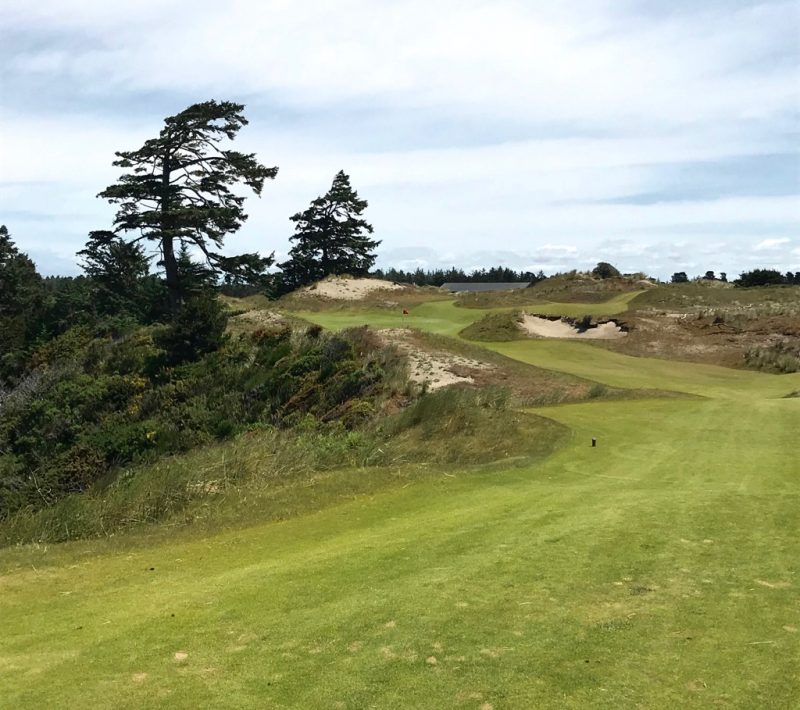 Who the heck placed the pin today at Hole #12? It was right behind the large bunker to the left. Just like #11, you must aim right at the bunker (if you fade the ball) to allow the breeze (i.e., wind) to carry your ball to a safe landing on the putting surface. Another bonus awaits at Hole #13 as you play it two ways. On your first attempt you grab your wedge and attack it like any other downhill par 3 of 109 yards. On your second try, you pull your putter and roll your shot down the hill. Mark told us there have only been two holes-in-one on the latter attempt. I was happy to find the front of the green with my whack. Both ways ended in bogeys but what a fun way to end the day!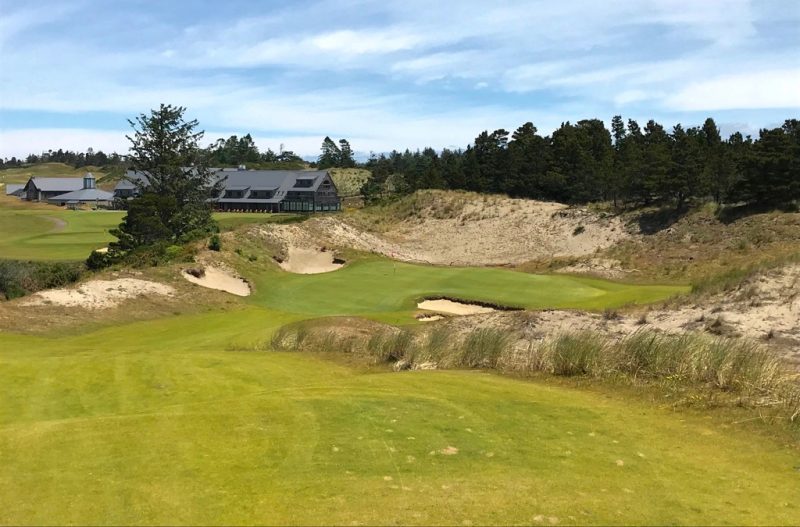 Ace:  Bandon Dunes Golf Resort – that's all I need to say. However, let me add six more things: Bandon Dunes, Pacific Dunes, Bandon Trails, Old MacDonald, The Punchbowl and Shorty's.
Okay, there is more to say. After playing seven courses (we did not) and spending thousands of dollars (we did not), it was time to take a break and grab a bite to eat. We chose McKee's Pub – go figure. A Scottish-style setting serving pub fare, Northwest microbrews, and classic, single malt scotches. Now we had to find a way to work off the burgers and beer. More golf or hiking? A buddy's trip would have been more gold, but Karen suggested a hike – so we hike. The resort offers four trails ranging from easy to strenuous. We decided on the 3.5 mile Beach/Dune Trails moderate combo. Be prepared, you will be walking on a lot of sand – it's tiring. However, you will be able to walk to the ocean; have a nice view of the Trails Course; possibly encounter wildlife such as deer, wild turkeys, snakes, ticks, and skunk (cabbage that is); and you will have walked off the food and beer.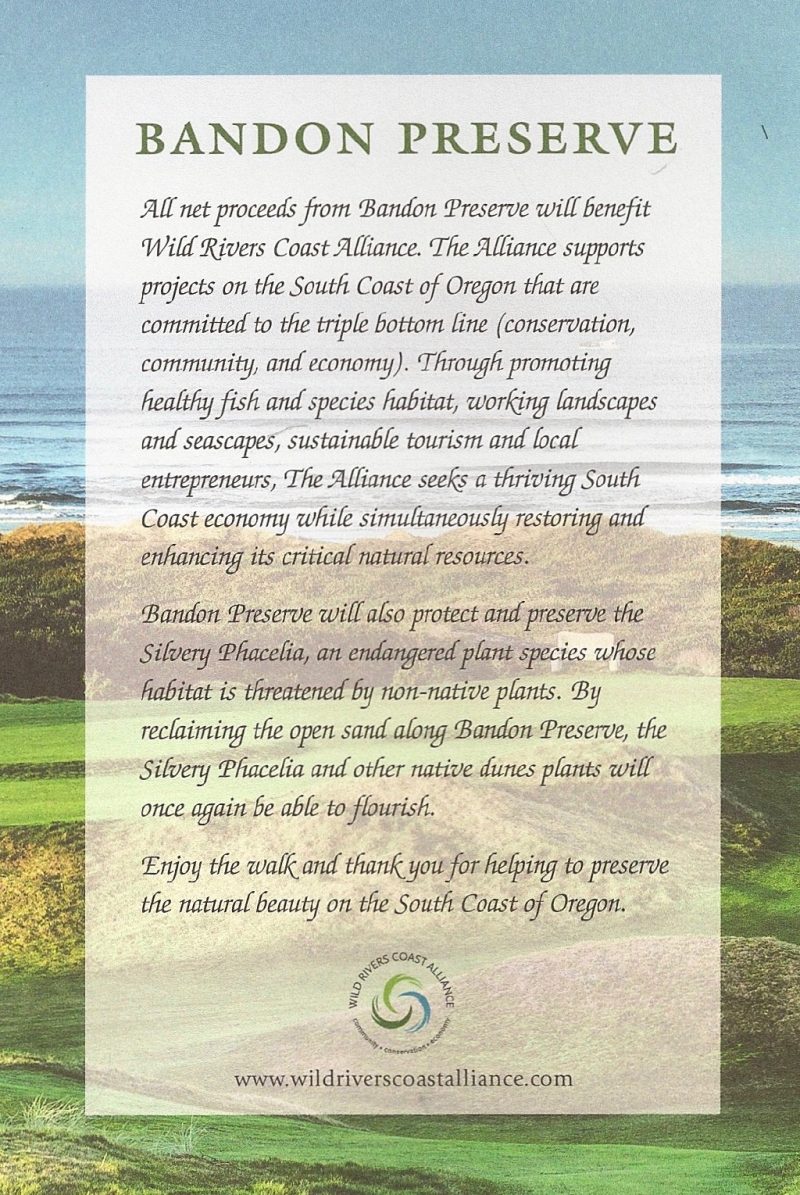 Lastly, if you play the Preserve, all the net proceeds will benefit the Wild Rivers Coast Alliance. The Alliance supports projects on the Southern Coast of Oregon that are committed to conservation, community, and economy.
57744 Round Lake Road, Bandon, OR 97411;  855-220-6710;  www.bandondunesgolf.com