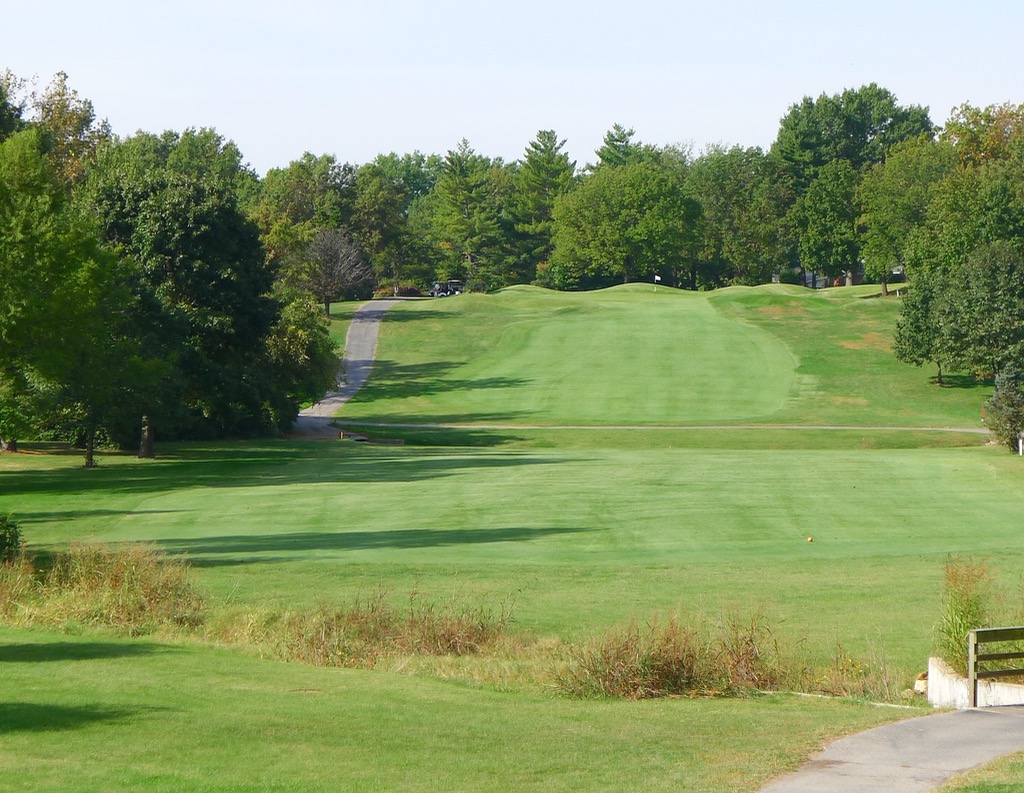 It's our 50th anniversary! Time to celebrate! It took us 16 hours to drive from Denver to Ballwin, MO, a trip that would normally take about 12 hours but we are old folks and we have to …well, you probably understand. Fifty years is a long time but it's not the anniversary you are thinking, it's…
The 50th anniversary of our last family vacation we took back in 1966. So three siblings, Scott – 66; Sally – 64; and the baby Steve – 61 are on the road with the destination of a college homecoming reunion. But first things first…golf at a 9-hole course and what better location than the St. Louis area. The Gateway Arch; the Cardinals (Busch Stadium); Anheuser-Busch Brewery; St. Louis Zoo; River City Casino; Anheuser-Busch Brewery; World Aquarium; Forest Park; Grant's Farm; Missouri History Museum; Cathedral Basilica of St. Louis; and Anheuser-Busch Brewery just to name a few attractions.
But enough about St. Louis because today we are unloading Steve's ancient clubs and playing Ballwin Golf Club. As Sally was ramming other carts while trying to learn to operate this complicated machine and Steve was toting his leather bag (who still has a '60's model bag?) which only has one strap (who doesn't have a dual strap bag?), the waiting golfers were tripping over themselves trying to get out ahead of these three jokers. The lucky twosome of Rick and Dennis who got stuck with us proved to be an ideal pairing.
As you embark on your journey around this 9-hole track, it is important to choose the correct tee box – that is if you can grasp the two-color system! We of old age and high-handicap chose the gold/black tees. This is of utmost importance at Hole #1 as you need to carry two creeks with your first two shots at this uphill par 4 (pictured above). Hole #2 is a dogleg left par 5 of 435 yards. Your tee shot needs to stay right of the mounding, while your 2nd/3rd shot needs to clear the creek as a large green awaits your ball.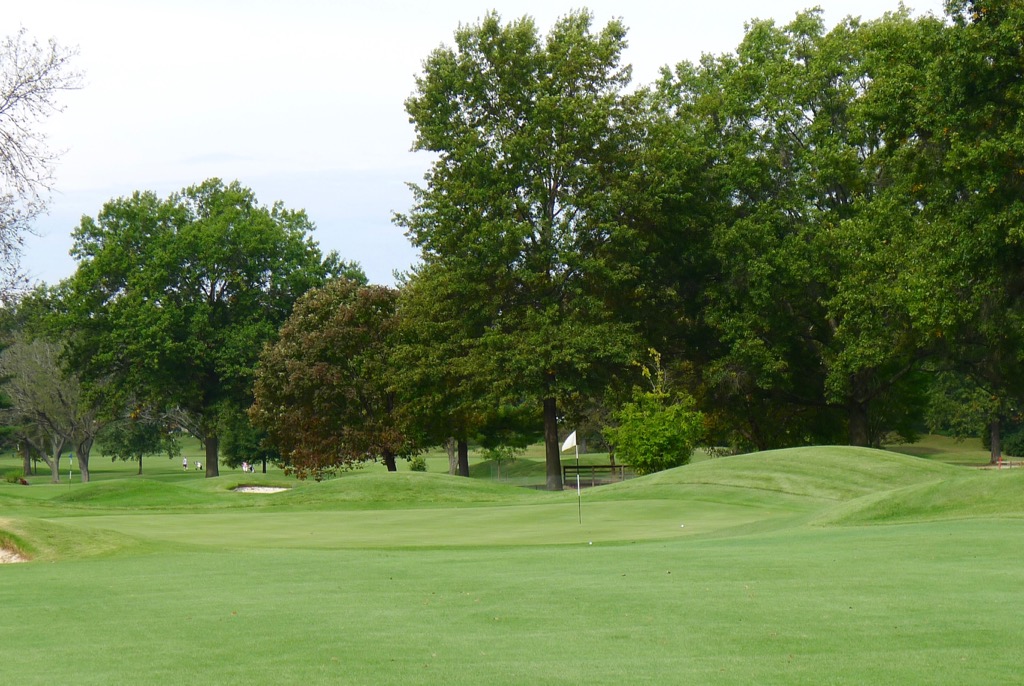 Bunkers on both sides of the fairway may come into play on a long drive at the short par 4 third hole. Another bunker awaits just left of the green – somehow we avoided all of them! Hole #4 is a par 3 that requires a tee shot over the creek (again) and splitting bunkers (again) at the green. There seems to be a theme here with sand and water. Evil – enough said about the green at Hole #5. Don't be lulled by the scorecard and your view from the tee box – a three-putt is looming!
How many creeks run through this golf course? Hole #6 – this 431 yard par 5 necessitates the second shot (or in some cases the 3rd or was it the 4th?) to carry the creek again. All the while trying to stay out of the trees on the left. Hole #7 is the number one handicap hole. Sometimes I shake my head about how these holes become the highest handicap. I probably don't have to put this in writing, it is a given at this point – your second shot needs to carry the creek!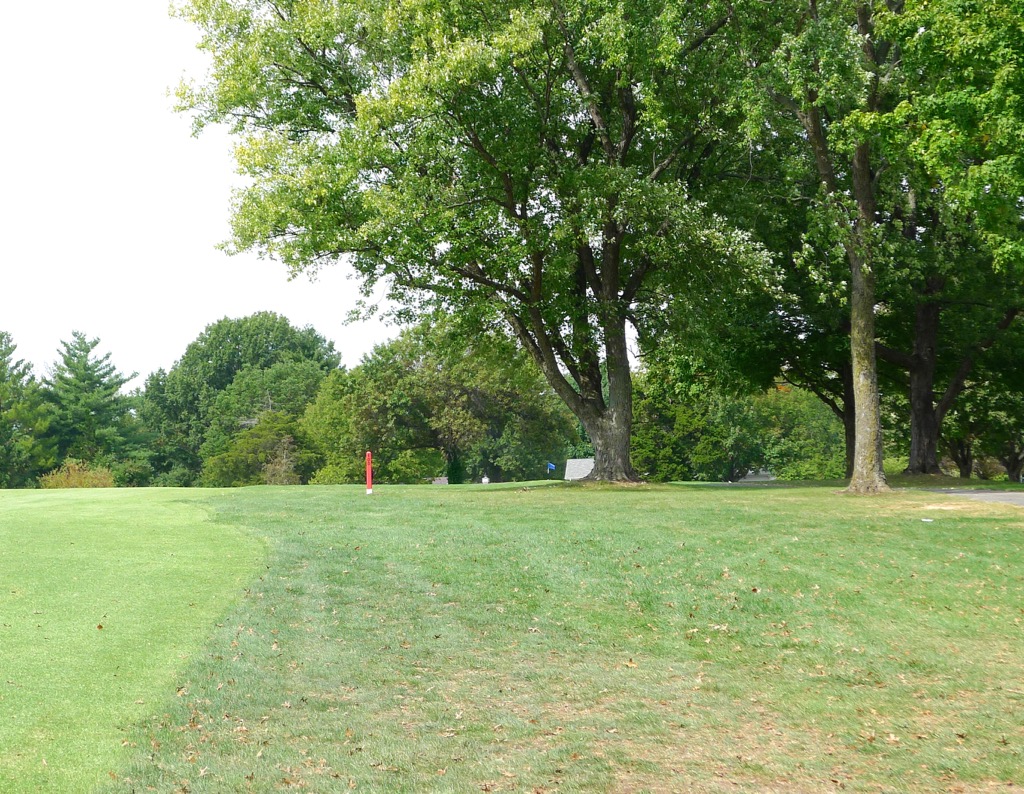 Hole #8 is a par 4 with a big dogleg to the right. Your tee shot needs to carry __________(fill in the blank). You can try to cut the corner by going over the trees (like I did) but you will have an obstructed 2nd shot (like me). Your best drive is straight for the proper approach to the green. There is not only a creek to carry at the par 3 ninth hole but as a final statement, this cruel architect added a pond.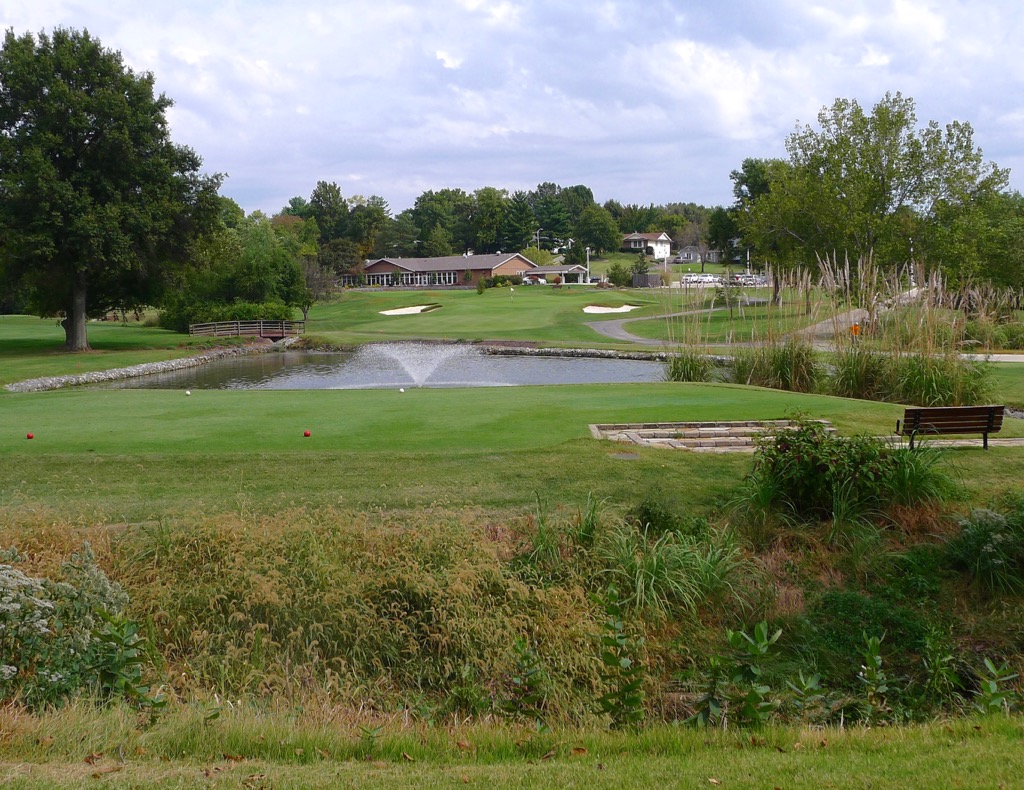 Ace:  First I would like to thank Rick and Dennis for tolerating us today. They made our round very enjoyable – hope they felt the same. Water and sand abounds on this track but that's what makes it fun and challenging. Most holes are straight but numbers two and eight will require ball movement. Did I mention there is a creek to carry on eight holes? Make sure you have a good supply of golf balls, if not you may be able to buy some of Steve's that he left behind in those creeks.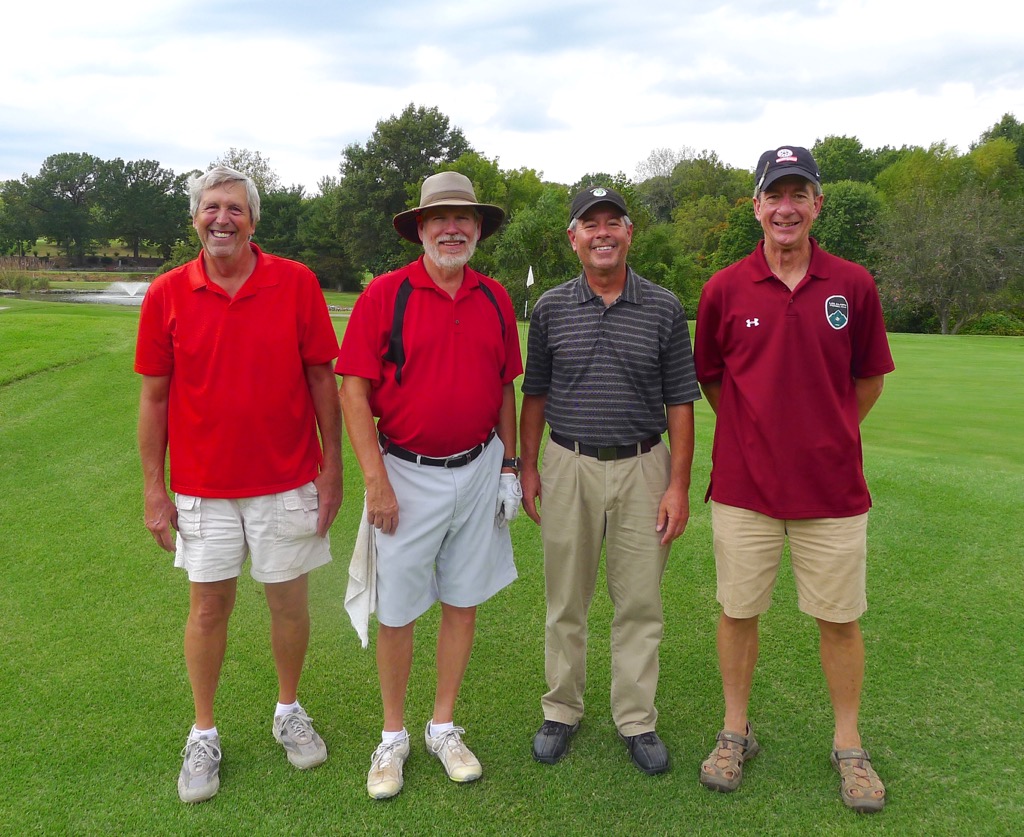 Due to our prior engagement at Aurora University, we didn't have time to visit the aforementioned St. Louis attractions, so we will have to wait for the next trip. Did I mention Anheuser-Busch Brewery?
333 Holloway Rd., Ballwin, MO 63011;  636-227-1750;  www.ballwin.mo.us