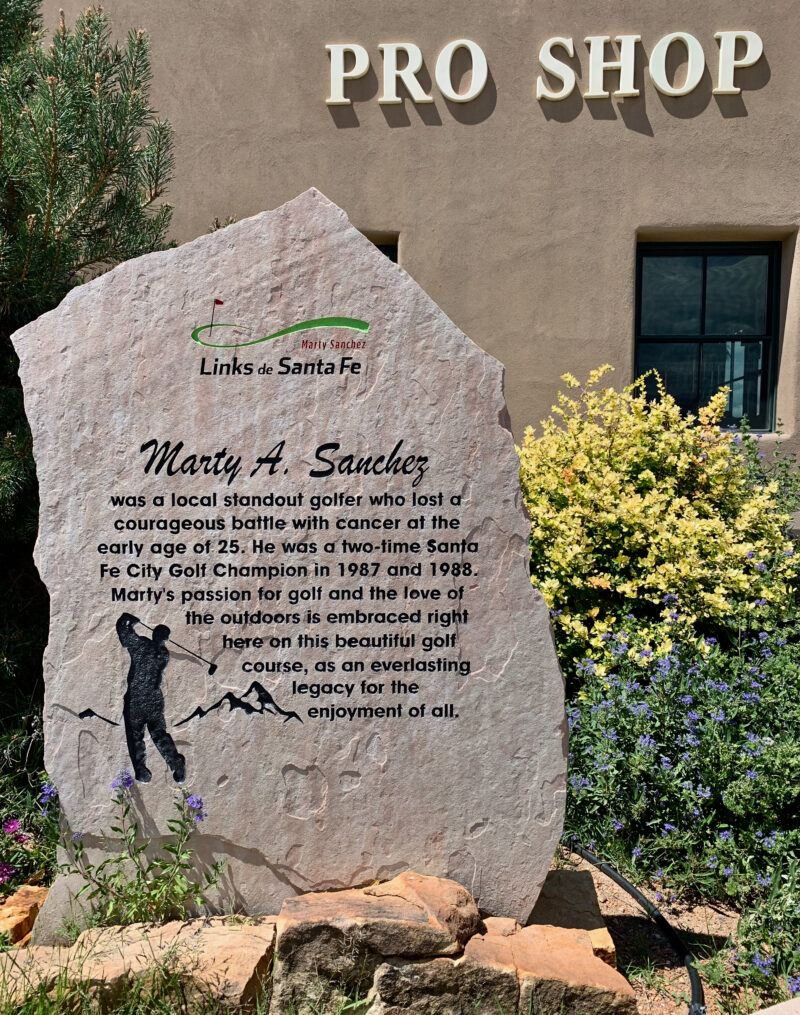 As we spend 7 months in Santa Fe, NM, we may be houseless but we are far from golf courseless. Over the years we have spent a considerable amount of time in New Mexico, but we are now on a mission to play as many 9-hole courses as we can for our Houseless (but not Homeless) Golf Tour in the Land of Enchantment. The Great 28 at Marty Sanchez Links de Santa Fe is an executive par 3 course that has been ranked #3 on a list of Top 5 Big Little Courses in the United States by Travel + Leisure Magazine. For those of you who aren't quite sure, I saw a local bumper sticker that stated, New Mexico is part of the United States!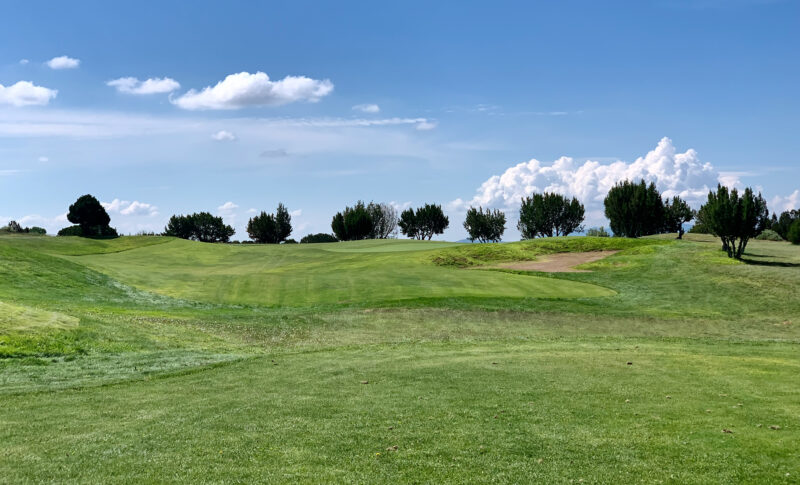 The Great 28 course is very walkable but the most difficult section is getting from the clubhouse to Hole #1. This is the first of eight consecutive par 3 holes. The final hole is a par 4 – thus the Great 28! The scorecard shows 5 sets of tees: gold, black, blue, white, and red. I was going to play from the black tees, but I could not find them! It looked as if today the black/blue tees were combined for a hybrid distance between 1320 – 1475 yards. The tee boxes are well marked with distance discs to help with yardage.
We won't review this course hole by hole but instead by category.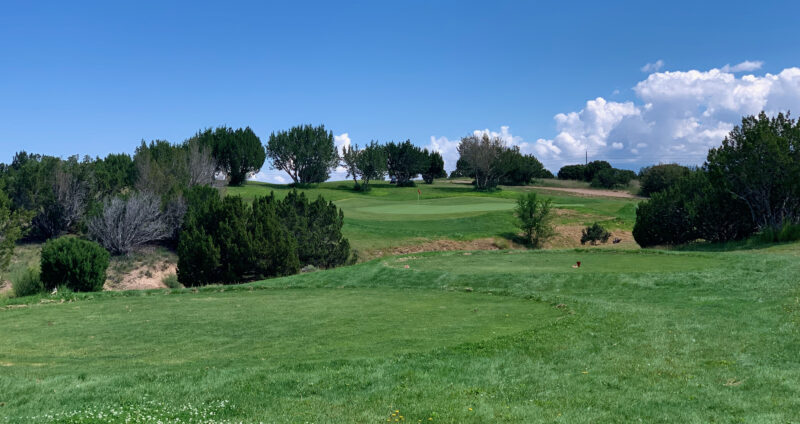 Shot Value: I graded this average because most of the distances I had today were around 130 yards. There just was not much variety from the blue, white, and red tee boxes. There was more diversity of distances from the black and gold tees.
Design Variety: It's hard on a par 3 course to create a variety of distances, but this course made up for that with hole configuration, hazard placement, green shape and contour. There is a lot of variation within these areas. The bunkers are a little unique. My guess is at one time they were filled with sand. Many of them now only have traces of sand, but are very penal with the growth that surrounds the walls of the bunkers. If your shot finds this mass of thick, tangled vegetation, you probably will not find your ball. Please don't take this as a negative about the condition of the course, it is probably a cost saving on this nine.
Memorability: It is not an easy test for your iron game because there is not a flat piece of earth on the fairway or greens. Also as my playing partner always points out – the New Mexico sky is alway amazing!
Aesthetics: It's a true New Mexico course as you weave your way through the prairie and the native vegetation. So different from other parts of the country. In their own words, it's exquisite links-style presentation of native terrain boasts visual scenery that so eloquently captivates the colorful splendor of the southwest. Between the majestic views and quietness of the desert environment, you'll feel like you're getting away from it all. I couldn't have said it better myself!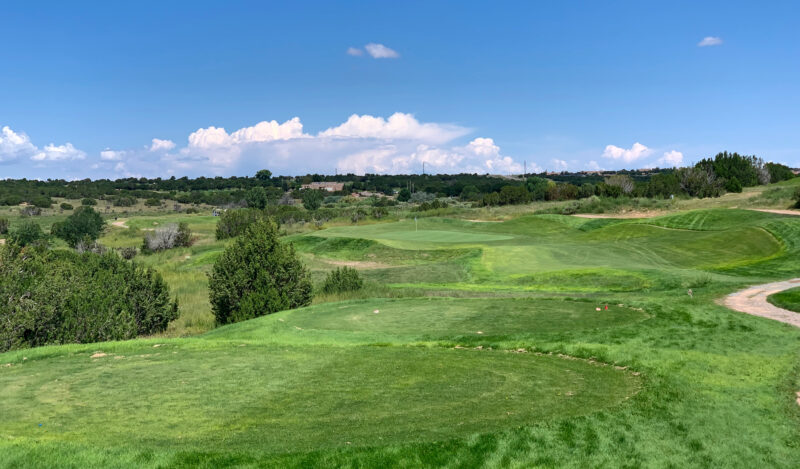 Conditioning: The course was green (which is unusual for the prairie) and the greens were in excellent shape.
Ambience: This is an outstanding city facility that features a helpful staff; a nice 19th hole with a patio; and 27 holes of golf.
Rating – Birdie (47 out of 60): Marty Sanchez Links de Santa Fe Golf Course is a tribute to a two-time city golf champion who died at a way too early age of 25. This 27-hole facility has the entire package for all golfers: 18-hole championship course; 35-station grass driving range; practice greens; putting area; the Great 28 executive par 3 course; and The Links Bar and Grill.
205 Caja del Rio, Santa Fe, NM 87505;  505-955-4400;  www.linksdesantafe.com